STAR is Hiring a Program Manager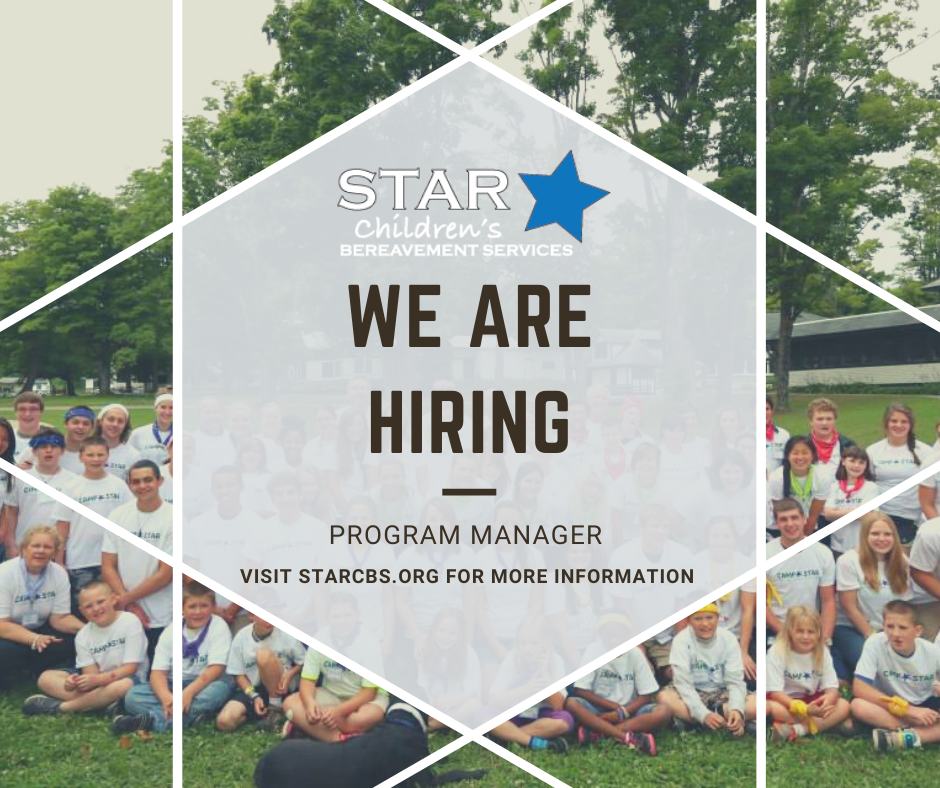 Position: Program Manager
Location: Marquette County
Hours:  Part Time – up to 10 hours a week with seasonal flex up to 25 hours in June – August. Overnight at Bay Cliff Health Camp required for Thursday – Sunday of second weekend of August.
Starting Salary: $18 per hour
Responsible To: President, Board of Directors
General Responsibility:
Oversee day-to-day program operations for STAR Children's Bereavement Services
Responsibilities and Duties:
Organize, engage, recruit and retain all potential volunteers needed to support Camp STAR (Buddies, leaders, co-leaders, etc.)
Follow and work within the STAR budget set by the STAR Board of Directors, oversee all purchases of supplies, merchandise, and necessary equipment and items to run STAR.
Work with outside individuals, counselors, and agencies to promote programs and recruit campers.
File and organize all volunteer applications, conduct volunteer background checks, interviews, and check references.
Oversee Program Planning Committee, set up meetings, create agenda, record minutes, assign tasks, follow up, and serve as central point of communication.
Organize, maintain, and verify the completeness of camper and staff applications and documents for Camp STAR.
Serve as the central point for all communications related to Camp STAR (Board, Committees, Parents, Camper Buddies, Volunteers, Bay Cliff).
Communicate with and promptly relay messages to Board and Committee Members.
Promptly respond to contacts by voice mail, e-mail, and postal mail.
Participate in the preparation of reports, as needed, for administration, program and funding proposals.
Schedule and help organize the training for all camp volunteers.
Update STAR applications and documents, upload to website, update website and post to social media.
Compose routine correspondence to volunteers, parents and in response to inquiries from the public.
Maintain absolute confidentiality of all information pertaining to children, families, and adults participating in STAR programs and events.
Oversee and orchestrate the organization of Camp STAR; schedules, meal planning, inventory of camp supplies, sleeping arrangements and assignments, assigning color groups, printing all camp materials and nametags.
Attend and be present for the volunteer training and full weekend of Camp STAR.
Meet with the Program Planning Committee post-camp to create a document to present to the Board of Directors at the September board meeting that highlights the opportunities and weaknesses of this year's Camp STAR.
Develop and maintain a working relationship with the appropriate personnel at the Camp STAR venue (currently Bay Cliff Health Camp).
Work with Program Planning Committee to plan monthly Wonder Box.
Pack and ship monthly Wonder Box.
Coordinate quarterly Best Day gatherings.
Other duties as assigned.
Desired Qualifications / Skills:
Experience with youth or camp programming and/or planning.
Excellent clerical and organizational skills.
Proficient computer skills for Microsoft Office, Google Suite, Word Press and Facebook
Be able to lift 25 lbs. consistently
Excellent oral and written communication.
Ability to work independently, productively and collaboratively from a home office and/or organization office.
Interpersonal skills and ability to interact well with the public.
High degree of confidentiality and trustworthiness.
How to Apply 
Resumes can be emailed to starcbshiring@gmail.com